A Note from the Inventor of the Back to Beauty Anti-Wrinkle Head Cradle Beauty Sleep Pillow.*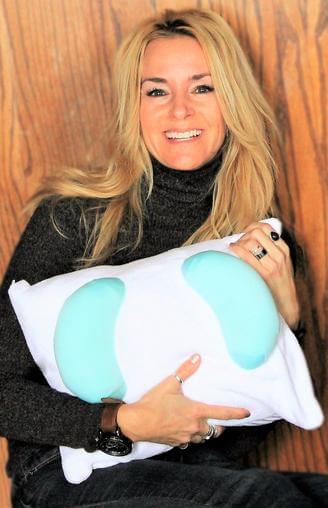 Hello, and Welcome!
My name is Helene, the inventor of the Back to Beauty Anti-Wrinkle Head Cradle beauty pillow.
I have been consistently sleeping on my back for almost 24 years, and at age 52, completely enjoy the benefits of not having the weight of my head touching my face when I sleep. I am often told that I look like I am in my 30s and asked, "What is your secret?"
Well, I have to tell you, I had always been a stomach and side sleeper, and even as a teenager would wake up with bags under my eyes from sleeping on my face. In my late 20s, I made a concerted effort to sleep on my back and was surprised how difficult it was to keep in position all night long. I also found back sleeping extremely uncomfortable.
That is when I began rigging up pillows to try to create a way to cradle my head and neck. I not only wanted to sleep on my back, I wanted to reap the full benefits of keeping all pressure off my facial skin as well as feel comfortable and snuggled when I was sleeping.
No back-sleeping pillow on the market, (and I do believe I have tried them all!) or anything I had created on my own, seemed to give that cuddly support I was looking for. After seeing all the studies and articles confirming the importance of back sleeping for wrinkle prevention, I decided to work directly with a textile manufacturer to bring my concept for the Back to Beauty Anti-Wrinkle Head Cradle beauty pillow to life.
Now available to you is the result of years of concepting and more than eight different prototypes explored in order to create a luxurious and cozy anti-wrinkle back sleeping beauty solution.
Finally! We can all get some true "beauty sleep!"
-Helene