Best Anti-Wrinkle Beauty Pillow Reviews
Helene, Back to Beauty Inventor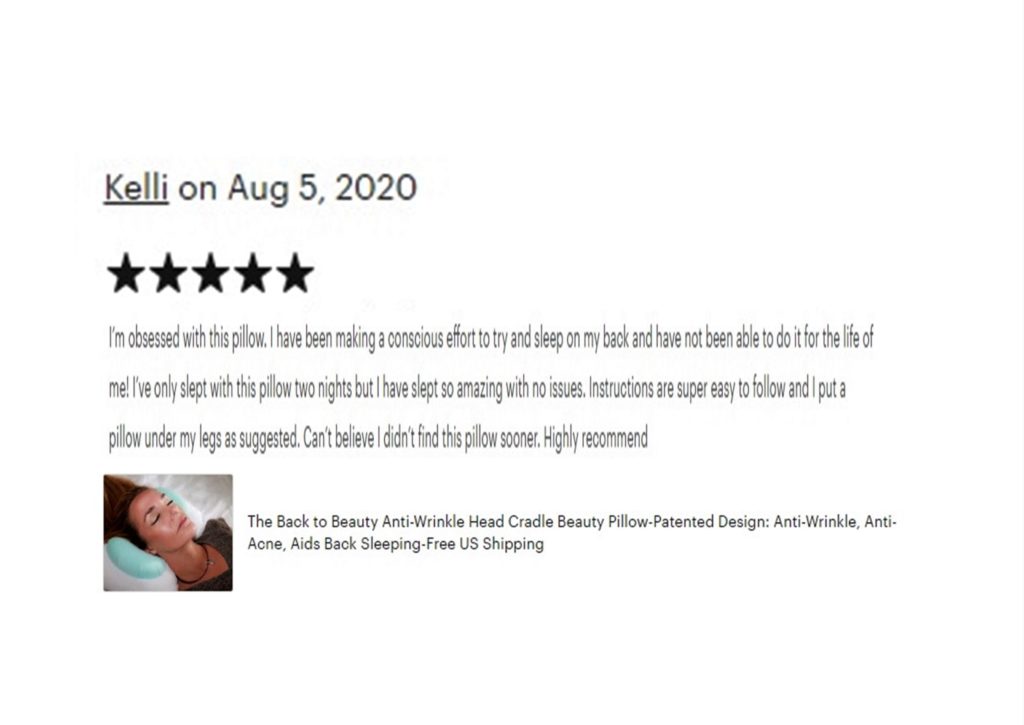 Kelli | 5 out of 5 Stars    
"I'm obsessed with this pillow. I have been making a conscious effort to try and sleep on my back and have not been able to do it for the life of me! I've only slept with this pillow two nights but I have slept so amazing with no issues. Instructions are super easy to follow and I put a pillow under my legs as suggested. Can't believe I didn't find this pillow sooner. Highly recommend"
Thank you, Kelli! I appreciate all of my customers, but especially those who watch my Back Sleeping Instructional Video and read the directions. It really does make a huge difference in finding your personal comfort zone and getting the best anti-wrinkle beauty sleep with the Back to Beauty™ Anti Wrinkle Head Cradle!
SAVING FACES AROUND THE WORLD, ONE PILLOW AT A TIME
The patented Back to Beauty™ Anti-Wrinkle Head Cradle beauty sleep pillow isn't just another back sleeping or wrinkle-prevention beauty pillow – it's a truly unique and versatile form-fitting head cradle that aids in consistent back sleeping, and trains those new to back sleeping, to keep pressure off of, or anything touching, your facial skin during sleep.
With an understanding and respect that everyone is different, Back to Beauty's wrinkle and acne-fighting patented design, with compact-cradle size, and fluffy hypoallergenic down-alternative fiber, was created specifically to enable use in various positions – allowing you to find your personal comfort zone.
Back to Beauty is foam free and won't compress to get hard and hot like foam mold pillows can, and retains a full and luxurious feel that supports the neck and stabilizes the head to provide true beauty sleep.
FREE US SHIPPING. ALSO SHIPS INTERNATIONALLY