CAUGHT IN THE ACT! Wrinkle-prevention lounging with my beauty pillow...
Helene, Back to Beauty Inventor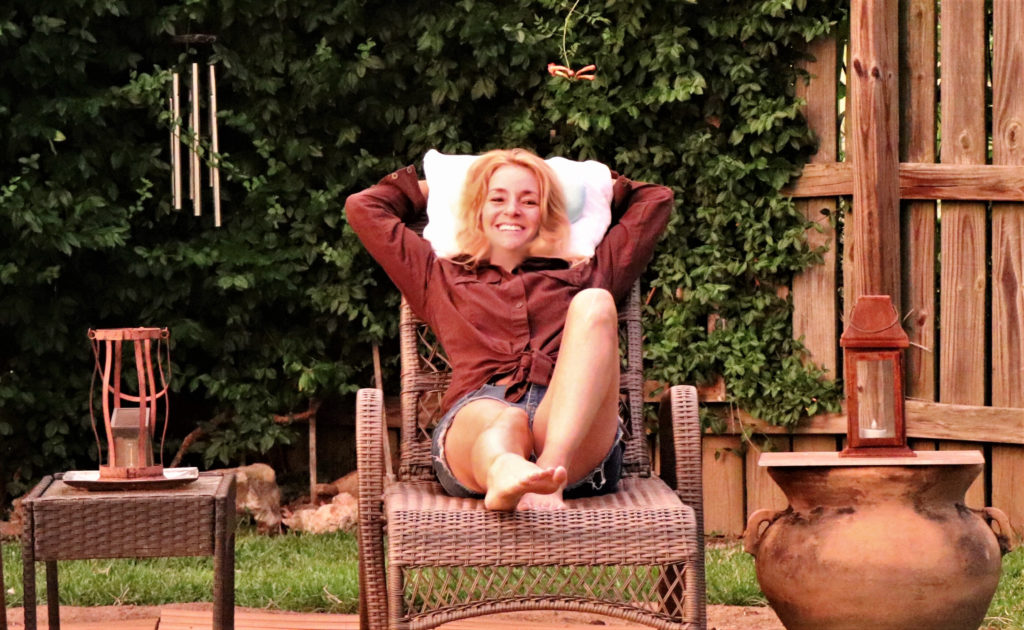 The sun was setting, the fireflies were starting to light things up, and the frogs and other night creatures began their evening song. I decided to go outside and just take it all in. Yes, I really do use my Back to Beauty™ Anti-Wrinkle Head Cradle beauty sleep pillow for any lounging occasion. Why not? For me it's a security blanket of sorts, not just the best anti-wrinkle pillow in all the land.
I hope you all are staying safe and well, and are able to relax and enjoy the little things during these times of uncertainty. ♥️
SAVING FACES AROUND THE WORLD, ONE PILLOW AT A TIME
The patented Back to Beauty™ Anti-Wrinkle Head Cradle beauty sleep pillow isn't just another back sleeping or wrinkle-prevention beauty pillow – it's a truly unique and versatile form-fitting head cradle that aids in consistent back sleeping, and trains those new to back sleeping, to keep pressure off of, or anything touching, your facial skin during sleep.
With an understanding and respect that everyone is different, Back to Beauty's wrinkle and acne-fighting patented design, with compact-cradle size, and fluffy hypoallergenic down-alternative fiber, was created specifically to enable use in various positions – allowing you to find your personal comfort zone.
Back to Beauty is foam free and won't compress to get hard and hot like foam mold pillows can, and retains a full and luxurious feel that supports the neck and stabilizes the head to provide true beauty sleep.
FREE US SHIPPING. ALSO SHIPS INTERNATIONALLY
Be sure to watch the Back to Beauty wrinkle-prevention pillow tutorial video for anti-aging back-sleeping training tips: