How to Turn Your 4.5-Hour Wait at the DMW Into a Beauty Nap
Helene, Back to Beauty Inventor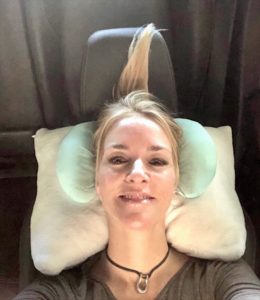 As if wait times at the Department of Motor Vehicles (DMV) aren't bad enough... COVID-19 safety measures mean the wait just got that much longer.
I signed my name on the check-in sheet and left my phone number. They said they would call. After 2.5 hours of waiting in my car, I went back in to see where I was on the list. Gulp! They had only gotten through 17 people! I drove home, grabbed my Back to Beauty™ Anti-Wrinkle Head Cradle beauty sleep pillow, drove back, parked in the shade, opened the sun roof, and took a monster beauty nap.
The call that it was my turn awakened me after a total 4.5 hour wait. What can you do other than try to turn everything into a positive, and catch as much beauty sleep as you can along the way?!
SAVING FACES AROUND THE WORLD, ONE PILLOW AT A TIME
The patented Back to Beauty™ Anti-Wrinkle Head Cradle beauty sleep pillow isn't just another back sleeping or wrinkle-prevention beauty pillow – it's a truly unique and versatile form-fitting head cradle that aids in consistent back sleeping, and trains those new to back sleeping, to keep pressure off of, or anything touching, your facial skin during sleep.
With an understanding and respect that everyone is different, Back to Beauty's wrinkle and acne-fighting patented design, with compact-cradle size, and fluffy hypoallergenic down-alternative fiber, was created specifically to enable use in various positions – allowing you to find your personal comfort zone.
Back to Beauty is foam free, and won't compress to get hard and hot like foam mold pillows can, and retains a full and luxurious feel that supports the neck and stabilizes the head to provide true beauty sleep.
FREE US SHIPPING | ALSO SHIPS INTERNATIONALLY
Be sure to watch the Back to Beauty wrinkle prevention pillow tutorial video for anti-aging back-sleeping training tips: