Training Yourself to Sleep on Your Back Isn't Easy: Back-Sleep Training Tips from the Inventor of the Back to Beauty Anti-Wrinkle Head Cradle Beauty Pillow
Helene, Back to Beauty Inventor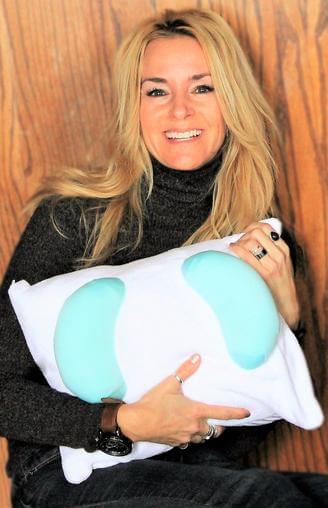 Truth be told, if I learned today I could sleep on my stomach and not give myself wrinkles, I would go back to sleeping on my face, immediately! Unfortunately, studies show sleeping on your side and stomach creates sleep lines and wrinkles (not to mention jowls, bags under the eyes, neck, chest, and breast wrinkles) that become etched into the skin and won't go away over time. With the average human head weighing between 8-10 pounds, those not sleeping on their backs are putting weight and pressure on delicate facial skin and reducing or even counteracting the benefits of moisturizing anti-wrinkle lotions, acne treatments, cosmetic injections, and facial surgeries.
So, I ultimately determined the hard work was worth it, and I put in the effort to consistently sleep on my back. It's been about 17 years now, and at age 48, I completely enjoy the benefits of not having the weight of my head touching my face when I sleep. I am often told that I look like I am in my early 30s and asked, "What is your secret?" Well, I have to tell you, I had always been a stomach and side sleeper, but even as a teenager would wake up with bags under my eyes from sleeping on my face. It wasn't until my late 20s that I started making a concerted effort to sleep on my back and was surprised how difficult it was to keep in position all night long. I also found back sleeping extremely uncomfortable. That is when I began rigging up pillows to try to create a way to cradle my head and neck. I not only wanted to sleep on my back, I wanted to reap the FULL benefits of keeping all pressure off my facial skin as well as feel comfortable and snuggled when I was sleeping. No back-sleeping pillow on the market, (and I do believe I have tried them all!) or anything I had created on my own, seemed to give that cuddly support I was looking for. After seeing all the studies and articles confirming the importance of back sleeping for wrinkle prevention, I decided to work directly with a textile manufacturer to bring my concept for the Back to Beauty Anti-Wrinkle Head Cradle beauty pillow to life.
Now available to you is the result of years of concepting and more than eight different prototypes explored in order to create a luxurious and cozy anti-wrinkle back sleeping beauty solution.
​​​​​​​​​ANTI-WRINKLE
The Back to Beauty Anti-Wrinkle Head Cradle beauty pillow's proprietary design softly, yet securely, cradles the head and neck to prevent your head from falling side-to-side, and keeps delicate facial skin from being touched and damaged during sleep. It also prevents you from giving yourself neck, chest, and breast wrinkles while you are sleeping.
ANTI-ACNE
Protects against skin blemishes that can result when the face comes in contact with the bacteria on pillows.
AIDS BACK SLEEPING
​​Aids in training you to achieve consistent and comfortable back sleep, the recommended position to avoid sleep-line wrinkles, promote proper spinal alignment, and combat acid reflux.
ADDITIONAL BENEFITS
+ Face lotions will be left undisturbed during sleep, allowing them to do their job.
+ Hair won't get flattened from weight of head during sleep.
+ Hypoallergenic down alternative fiber retains luxurious feel and fluffiness.
+ Extended base design provides neck support without being too bulky; conforms for a personal fit.
+ Can be used alone or on top of your favorite pillow(s).
+ Compact size allows versatility in use and packs easily for travel.​
BUT WAIT! If only it were that simple! I understand and respect that everyone is different, which is why I designed Back to Beauty to be a compact-cradle size, with fluffy hypoallergenic down-alternative fiber that specifically enables use in various positions – allowing you to find your personal comfort zone. Everyone using my pillow must read the directions to not only get back-sleeping training assistance, but break in their new pillow, ensure crescent "top" of pillow is identified to avoid any pinching of neck area, and other options, like "Head Hammock" inverted position for those who prefer more open support opposed to the snug support of the crescents.
I can always tell when I read reviews of my pillow who did, and did not, follow the directions. It's important to understand that training yourself to become a back sleeper isn't easy, takes time, and is ultimately not for everyone, which is why I offer 30-day returns. Now, if you are interested in getting my back sleeping tips, which can help you train yourself to become a back sleeper even if you aren't using my pillow, please see diagram below! Best to you, and sweet beauty sleep!
-Helene